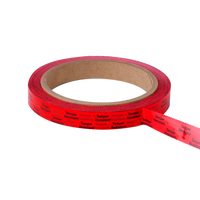 Tamper-Evident Tape
60100
Inner Qty: 1
Login to view price.
Apothecary Products Tamper-Evident Tape provides an important safeguard against tampering on all prescription containers. This is an essential for pharmacy security and safety for patient's prescription protection. Give your patients peace of mind with this security tape. Perfect for all packaging, including ovals, ointment tubes, purchase order bags, and more.
Perfect for ointment tubes

1/2"W x 72 yards long

3" core to fit Rx counter dispenser

2,592 one-inch strips
Log in to your account to receive more information about pricing, place an order, and find more retail product lines and innovative tools for pharmacists and the patients they serve. Apothecary product innovations solve problems and work to improve wellness and health outcomes.