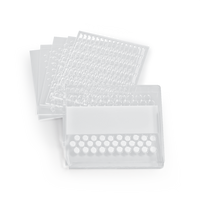 Shake & Roll Pill Counter
23681
Inner Qty: 1
Login to view price.
Apothecary Products Shake & Roll Pill Counter is an inexpensive, easy-to-use, high-paced capsule counter that helps your pharmacy efficiently and accurately dispense medications. Includes six (6) durable, acrylic plates, a holder, and an organizer in a compact set. The Shake & Roll Pill Counter is part of the Apothecary Products Prescription Packaging products that help pharmacy technicians provide the best options for medication adherence.
6 Durable, Acrylic Plates

Holder & Organizer

100 - 500 Unit Counters

Efficient, Fast-Paced, Accurate

Easy-To-Use
Log in to your account to receive more information about pricing, place an order, and find more retail product lines and innovative tools for pharmacists and the patients they serve. Apothecary product innovations solve problems and work to improve wellness and health outcomes.