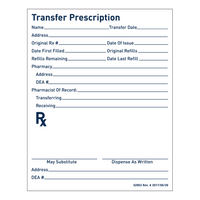 Rx Transfer Prescription Pad
52953
Inner Qty: 1000
Login to view price.
Apothecary Products Rx Transfer Prescription Pad helps pharmacies organize and quickly transfer prescription orders on one concise, complete form. Transfers information necessary to efficiently and accurately administer medications. 
Prescription Pad Details:
Vertical

Blue ink

5" x 4"

Printed on white bond paper

100 sheets per pad

10 pads per order
Log in to your account to receive more information about pricing, place an order, and find more retail product lines and innovative tools for pharmacists and the patients they serve. Apothecary product innovations solve problems and work to improve wellness and health outcomes.