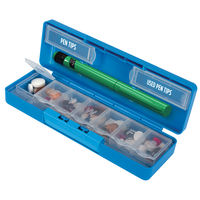 Ezy Dose® Weekly Pill Planner with Pen Holder
66976
Inner Qty: 3
Login to view price.
Carry your insulin pen with your oral medication.
Features
Compartments hold both new and used pen tips
Hold up to seven days worth of medication
Contoured pill compartment for easy removal of oral medication

Apothecary Products confirms that Bisphenol A (BPA) is not intentionally added during manufacturing of these products.