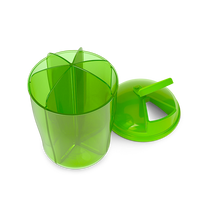 Ezy Dose® Vitamin Organizer
70076
Inner Qty: 1
Login to view price.
The Ezy Dose Vitamin Organizer provides a single-storage solution for vitamins and supplements. 
Features
Oversized compartments allow you to organize a variety of pill sizes

Simply turn the cover to the desired compartment to dispense the needed pills

Holds multiple pills large & small, Dimensions 8.5 x 5.5 x 5.5 inches

Pre-printed and blank labels to easily identify contents of each compartment

Assorted colors

Apothecary Products confirms that Bisphenol A (BPA) is not intentionally added during manufacturing of these products.