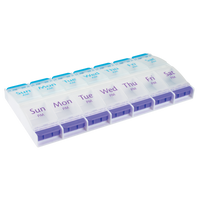 Ezy Dose® Push Button AM/PM Weekly Pill Organizer (XL)
67585
Inner Qty: 6
Login to view price.
Our pharmacist-designed, award-winning Push Button Pill Planners were created to make staying adherent even easier with a large button that pops open each compartment. The Ezy Dose 7-Day AM/PM pill planner is perfect for managing prescribed medication or organizing vitamins taken 2 times per day. This pill organizer is designed for easy use. 
Features
XL compartments hold up to 60 aspirin tablets and are great for multiple larger medications and/or vitamins to be taken in the morning and evening
Larger push buttons soften the effort needed to open compartments
Four silicone "feet" secure the planner to the counter for one-handed opening access
Contoured scoop bottom for easy removal with fingertips
Translucent lids for easy pill identification
Bold, large capitalized lettering for easier compartment identification
New assorted colors - AM = light blue and PM = light purple
Clam shell packaging for hanging display
Easy to open push-button lids for those with arthritis or dexterity issues
Apothecary Products confirms that Bisphenol A (BPA) is not intentionally added during manufacturing of these products.