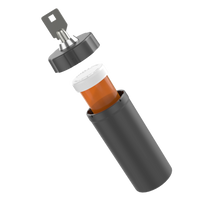 Ezy Dose® Nylon Locking Pill Container (Medium)
70171B
Inner Qty: 3
Login to view price.
This lockable pill container features a lock to secure your medications within their original prescription vial. The durable nylon construction and stainless steel lock keeps medications safe until ready to be administered. Pill capacity - holds 225 aspirin-size tablets.
Directions:
Wash before initial use with warm, soapy water. Rinse and allow to dry completely before using. Do not wash the lid with lock.
To open, insert key into lock. Turn key and remove lid.
Please prescription vial inside the locking pill container.
To close, align markings as shown on package and place the key in the unlocked position. Turn the key to the locked position.
Inspect regularly for moisture or foreign particles that can enter when opened.
Replace contents every two weeks or if moisture contamination has occurred.
WARNING: This product is neither child resistant nor is it a toy. Keep this and all medicine out of a child's reach. Do not use this product for any medications that might require quick access in a medical emergency. This product does not prevent access to medications from unauthorized users. Follow all local, state and federal laws and regulations when carrying prescription medications.