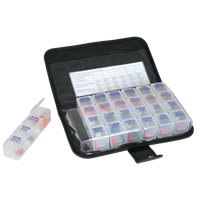 Ezy Dose® Medtime Planner® with Carrying Case
67436
Inner Qty: 3
Login to view price.
This pill organizer has a tray that holds 7 daily pill boxes, each with 4 compartments, all in a handy carry case. This medication reminder is perfect for taking your medication on the go and is easy to use. 
Lets you fill a week's medications at one time with the convenience of taking just one day with you.
AM/PM compartments help you to easily plan and distribute your daily doses

Each compartment holds 36 tablets
See-through design lets you see each compartment without opening
Includes prescription information label to help fill cases with the right dosage at the right time

Removable compartments, Makes refilling your pill organizer quick and timeless