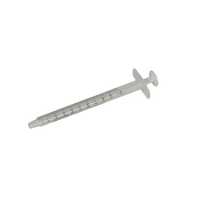 Oral Syringe
77500
Inner Qty: 50
Login to view price.
The Oral Syringe is part of the complete set of liquid dosing aids to help your pharmacy run with efficiency. Deliver the correct dose of liquid medication comfortably with this easy to use oral syringe with both teaspoon and millimeter calibration. 
Tip is small enough to fit into the mouths of babies, small children, and pets

Latex-free, pyrogen-free, and made of medical grade plastic

Dose medication from 1 mL to 10 mL

Syringes do not utilize a rubber grommet

Apothecary Products offers custom imprints on the Oral Syringes
Log in to your account to receive more information about pricing, place an order, and find more retail product lines and innovative tools for pharmacists and the patients they serve. For custom imprints please call directly to order. Apothecary product innovations solve problems and work to improve wellness and health outcomes.