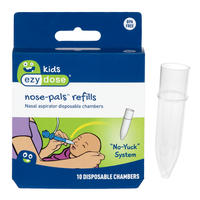 Ezy Dose Kids® Nose-Pals Nasal Aspirator - Refill Collection Chambers
70086
Inner Qty: 6
Login to view price.
Use Ezy Dose® Kids Refill Collection Chambers with Ezy Dose® Nose-Pals Nasal Aspirator item number 70052. Nose-Pals is a reusable, non-invasive nasal aspirator that allows the user to gently remove mucus and helps relieve a baby's stuffy nose. Nose-Pals utilizes a one-way valve that allows you to blow out to create suction, removing the 'yuck' factor.
Apothecary Products confirms that Bisphenol A (BPA) is not intentionally added during manufacturing of these products.

Collection chamber:
Disposable
Recyclable
No filters needed
Safe, non-invasive chamber tip
10 refills per box