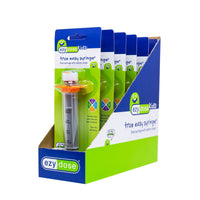 Ezy Dose Kids® True Easy Syringe Display
400847DSP
Inner Qty: 6
Login to view price.
The Ezy Dose® Kids True Easy Syringe is a liquid medication dosage device designed to help caretakers administer a safe and precise prescribed dose. The patented True Easy Syringe delivers an accurate dose of medication every time. It features a color-coded dial and built-in safety stops to prevent overdosing.
Features
Ensure accuracy with color-coded dosage
Easy-to-read calibrations with oversized grip
PTPA (Parent Tested, Parent Approved) Award
Disassemble syringe by pushing plunger down and turning orange collar counter-clockwise. Wash before initial use with warm, soapy water. Rinse and allow to dry completely before using.