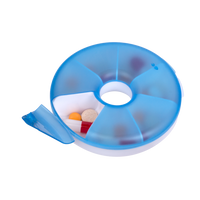 Ezy Dose® Easy Fill Weekly Carousel Pill Organizer (Large)
67702
Inner Qty: 6
Login to view price.
Never miss another dose with the Ezy Dose® Pill Container.  This pill organizer has a spinning carousel design and a fully opening top for easy filling. The planner has rounded scoop bottoms for easy pill removal and has enough space to fit your entire week's medication.

Features
The planner rotates to each day of the week to help you track your medication

The planner can hold up to 30 Aspirin

Contoured bottoms for easy pill removal

This product has a high quality design and is made for repeated use

Lids firmly snap shut to prevent spilling

Assorted colors

Apothecary Products confirms that Bisphenol A (BPA) is not intentionally added during manufacturing of these products.