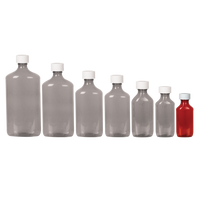 Ezy Dose® Amber Oval Pharmacy Bottle 2 oz
30680
Login to view price.
The classic oval chemist bottles meet FDA standards for child-resistant lids that are also senior-friendly. The Amber Ovals meet USP 671 standard for light protection and moisture permeation and are designed to prevent spilling of both liquid and solid medications with a graduated neck, which fits the Ezy Dose Bottle Adapter flanges. Made from durable plastic to prevent breaking upon contact with surfaces. 
Item 30680 - 2 oz; 132/case - 4 1/8" H x 1 1/8" DIA.